Reviews
We assure that your project will be completed to the highest workmanship standard. If you need extra assurance, here are some words of praise from previous happy clients.
"I have no hesitation to continue to recommend them"

– Judy Jordan
I have chosen to use Tomik Architectural Builders for 2 projects on my Waiheke property.  Tomik is a professionally run company and their work is to the highest standard.
The first project was in 2002, a 2 bedroom and ensuite extension, in which Tomik faithfully carried thru all architectural elements and complimented the quality of the original build.  Tomik made this an enjoyable building experience so I had them back on board for my second project.
In 2019/20 they managed the land preparation and finishing work on a bespoke transportable home.  They did a fabulous job again, always going the extra mile.  Todd and his skilled building team are good communicators and take a real pride in their work.
I have no hesitation to continue to recommend them as the preferred builders on the island.
"We are sticklers for first-class finishes and the Tomik team delivered"

– Jim Syme
Tomik was recommended to us by friends. We built two new houses – 2007 & 2018 (each with a budget of $4 million), Waiheke Island.
Both builds were completed within budget (we always have an independent quantity surveyor check the construction cost budget) and at the completion time set by Tomik.
The team led by Todd Flashman were superb – professional, skilled tradespeople, pragmatic and very well led and organised (regular construction flow charts, and all variations cost. We had regular site meetings with the architect present and any issues were always quickly resolved so construction proceeded smoothly.
For both builds, Tomik used the same subcontractors and they were just as professional and skilled as the Tomik team.
We are sticklers for first-class finishes and the Tomik team delivered. After completion, they were always available for any issues and adjustments.
We have recommended Tomik to two friends on Waiheke and they were very impressed with Tomik.
"We were thrilled with the professional approach and superb quality of the work"

– Sir Noel Robinson
It is with pleasure I write a letter of support and recommendation for Tomik . I was recommended to use them after a friend had enjoyed the partnership in building with them.
The building is always stressful, but they made it easy for us as this was a major renovation and addition to our property .
We were thrilled with the professional approach and superb quality of the work they did for us in finishing on time and within budget. In the six years since we have finished, we have had no ongoing issues with the building which speaks for the high standards that Tomik builds We would not hesitate to use them again.

Trust
It is vital to us that we gain the trust of those that we work alongside. We act with integrity and prove ourselves to be open, honest, and reliable

Honesty
We have a reputation for being true to our words and actions. We assure you can trust us to deliver what we promise.

Teamwork
Togetherness makes us stronger. We believe that extraordinary homes are built when trade professionals collaborate as a team, all committed to creating your dream home.

Communication
We strongly believe that clear and effective communication is paramount to build strong personal relationships and complete successful projects.

Customer Satisfaction
We listen and understand your needs and requirements. We will deliver exactly what you expect.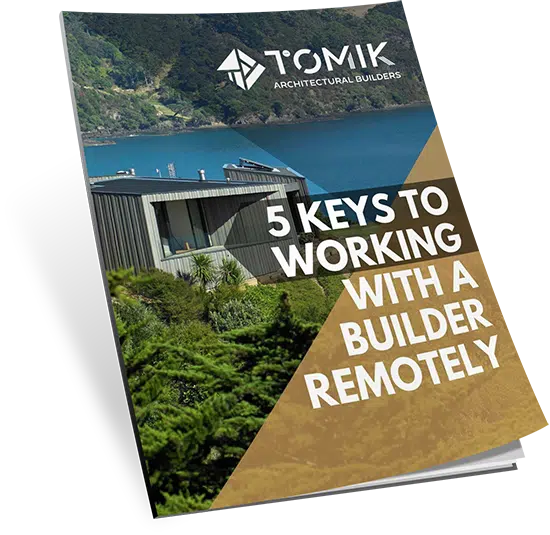 Are you looking to build your architectural home in Waiheke but are not always here?
Many of our clients are either moving to Waiheke or are building a holiday or 'part of the year' home, but they cannot travel to the site if they live off Waiheke.
We have compiled a list of the 5 key points you need to think about when you cannot be physically present while building your home.
Whether you build with us or someone else, these points will help you clarify what you need to pay attention when working with your builder remotely.
Book a call
Our director, Todd Flashman, will personally conduct the session, which is normally valued at $300. However, we are offering the session FREE to people
that are seriously considering building a dream home to help them make informed decisions towards the next step.