Want to build a home on Waiheke but you are worried that not being physically present on-site might lead to a nightmare?
Starting your new build can be challenging and daunting, especially if you do not live permanently on Waiheke. Our free guide is designed to act as a starting point to give you more clarity on what you need to think about when you cannot be physically present during your build.
If you want to avoid the stress and sleepless nights, wondering what is happening with your build in Waiheke while you are not there, this free guide is perfect for you. You will find invaluable tips on the best practices to follow when you are unable to be on-site during the construction of your new home.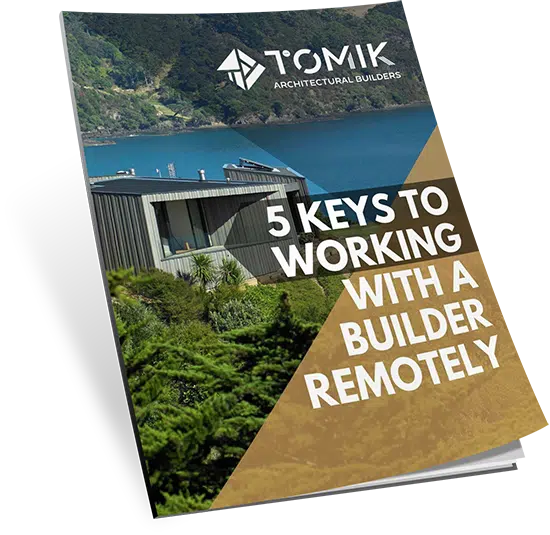 FREE Guide: 5 Keys To Working With A Builder Remotely
"We are sticklers for first-class finishes and the Tomik team delivered"

– Jim Syme
Tomik was recommended to us by friends. We built two new houses – 2007 & 2018 (each with a budget of $4 million), Waiheke Island.
Both builds were completed within budget (we always have an independent quantity surveyor check the construction cost budget) and at the completion time set by Tomik.
The team led by Todd Flashman were superb – professional, skilled tradespeople, pragmatic and very well led and organised (regular construction flow charts, and all variations cost. We had regular site meetings with the architect present and any issues were always quickly resolved so construction proceeded smoothly.
For both builds, Tomik used the same subcontractors and they were just as professional and skilled as the Tomik team.
We are sticklers for first-class finishes and the Tomik team delivered. After completion, they were always available for any issues and adjustments.
We have recommended Tomik to two friends on Waiheke and they were very impressed with Tomik.
FREE Guide: 5 Keys To Working With A Builder Remotely