Meet The Team
Togetherness makes us stronger. Meet the extraordinary people behind your extraordinary architectural home.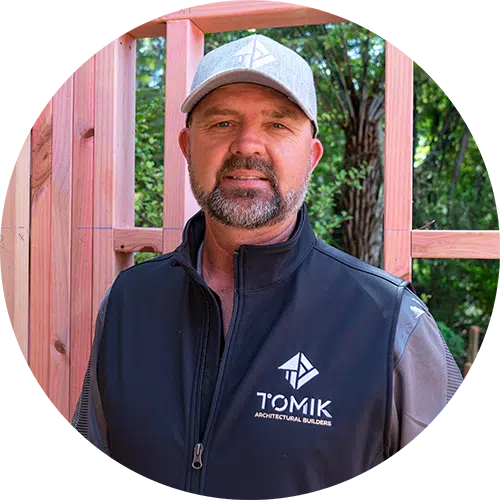 Todd Flashman
Managing Director
Hi I'm Todd Flashman. Managing Director of Tomik Architectural Builders. With over 30 years specialising in Ultra High End Architectural residential construction; I consider myself reasonably qualified to lead what I truly believe is the best Construction Company on Waiheke Island. I am a passionate builder, great communicator, fair, honest, and full of integrity. My vast experience in the boutique sector of residential new home builds enables me to lead, manage and execute a company that is dedicated to quality, satisfaction, and professionalism.
After hours, I'm a dedicated dad to two beautiful daughters, and together with my wonderful wife Sarah, we as a family live as sustainably as possible on our small lifestyle block on Waiheke. We are dedicated to living lightly on the land. I love mountain Biking, skiing, and getting out on the water with the family.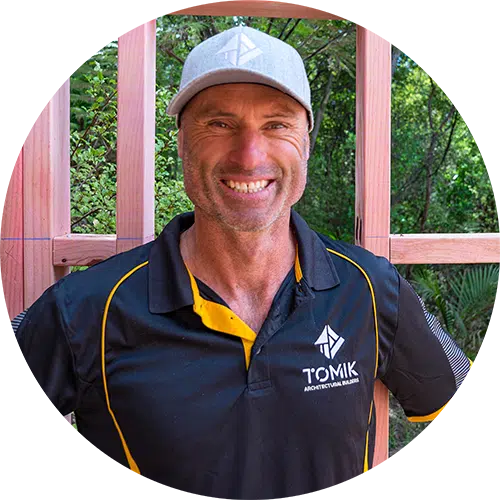 Tim Simes
Site Manager
Hi I'm Tim the Construction Manager for Tomik.  I've been with the company for over 20 years.  I'm trade qualified and Registered LBP in carpentry and Site 2 management.
I've lived on the Island for 19 years and passionate about building quality homes for good clients.  I take a pride in our work and like to think we have made many good clients into good friends.
I'm married and have 2 children both at the school on the island.  I play and coach tennis and love getting out on the water Kitesurfing and sailing our keeler from Kennedy Point.  I'm also a passionate gardener and a lover of the outdoors and nature.  I look forward to next upcoming projects and love a challenge.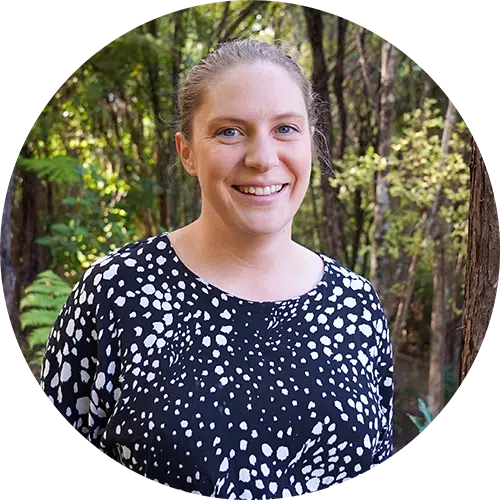 Bonny Adams
Office Manager
Hey, Bonny here. I am the newest member of the Tomik team. I have a background in administration, interior design, holiday home management and most recently being a school office manager. My work passions are people, design, organising and having a great work culture. Outside of work, I am a mum to two kids and 3 fur babies. My husband is a viticulturist on Waiheke so I am very partial to a Waiheke wine especially when it is shared with family and friends.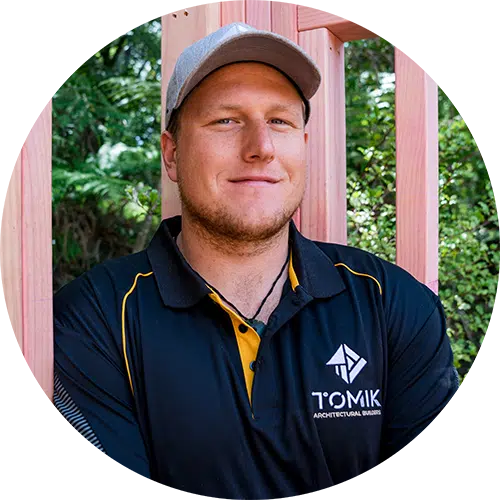 Josh Clarke
Carpenter
Josh present. I have been working with Tomik for almost 8 years now and I have loved every minute of what we do, what we stand for, and what we accomplish. I started with Tomik coming out of Takapuna grammar school and straight into my apprenticeship where I learned and developed all the skills I have today at a very high architectural standard. Because of the support of Todd, I entered an event called 'Apprentice of The Year' where I placed 2nd in the North Island, whoo. I chose to work with Tomik over any other company because of the strong team relationship bond they have together and the high level of work they produce. Because I work hard, I play hard; so off-site I love spending my days out on the water whether it's for a swim, a stand-up paddle or spend the day with the lads waiting for that big moocher of a fish take my bait. The team at Tomik have always been supporting me in my journey to achieve my goals and improve my knowledge of the building industry. We take great pride in our work because its the most rewarding feeling ✌️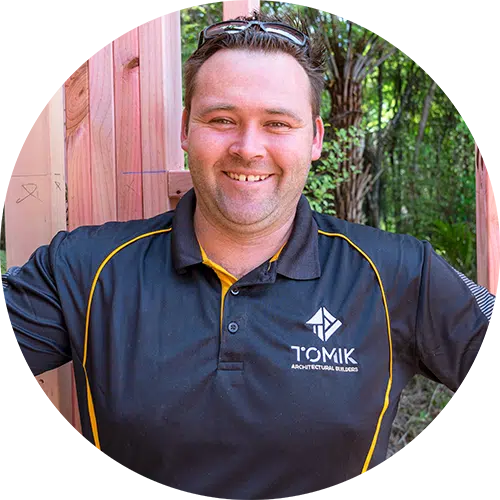 Matt Rhodes
Site Manager
Hey Matt here, I've been with Tomik for the last 11 years and have enjoyed every day of it. I'm a site Foreman and I'm very proud of being able to motivate a team and see the pride of their created work is something special.
Onsite I enjoy the tricky side of the building, the one-off things that really get you thinking,
And then seeing that all come together with the architects' vision.
Offsite I enjoy getting out on the water or relaxing with good friends and family.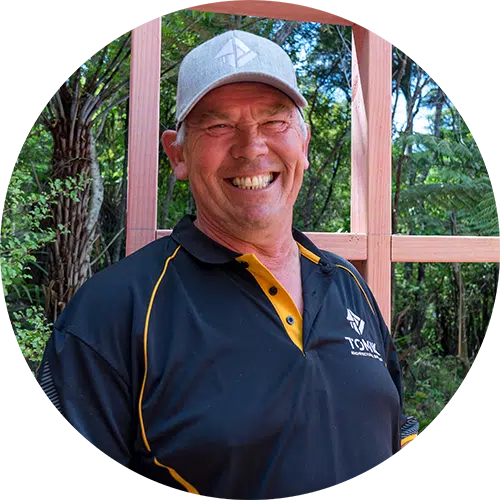 Peter Woolf
Hammerhand
Hi, I'm Woolfy. I've lived on Waiheke for 16 years has come to New Zealand from the UK through my former career in the yacht racing business as a sailor, boat builder, and marine electronics engineer. Tired of being constantly away from home I looked to change my career over 5 years ago and joined Tomik as I knew of their reputation as quality builders who took on high-end, often complex architectural designs and I wanted to develop my skills working on projects that challenged me. I haven't been disappointed. 
 When not at work I share a home with my lovely wife Kate who teaches at one of the island's primary schools, one long-term foster daughter, frequent guest appearances by other children in care, and a menagerie of animals most of which have been rescued from one place or another. Sometimes I even get the time to go sailing!

Trust
It is vital to us that we gain the trust of those that we work alongside. We act with integrity and prove ourselves to be open, honest, and reliable

Honesty
We have a reputation for being true to our words and actions. We assure you can trust us to deliver what we promise.

Teamwork
Togetherness makes us stronger. We believe that extraordinary homes are built when trade professionals collaborate as a team, all committed to creating your dream home.

Communication
We strongly believe that clear and effective communication is paramount to build strong personal relationships and complete successful projects.

Customer Satisfaction
We listen and understand your needs and requirements. We will deliver exactly what you expect.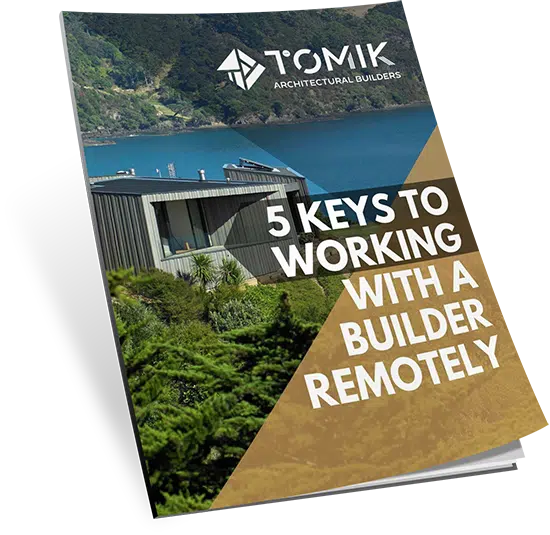 Are you looking to build your architectural home in Waiheke but are not always here?
Many of our clients are either moving to Waiheke or are building a holiday or 'part of the year' home, but they cannot travel to the site if they live off Waiheke.
We have compiled a list of the 5 key points you need to think about when you cannot be physically present while building your home.
Whether you build with us or someone else, these points will help you clarify what you need to pay attention when working with your builder remotely.
Book a call
Our director, Todd Flashman, will personally conduct the session, which is normally valued at $300. However, we are offering the session FREE to people
that are seriously considering building a dream home to help them make informed decisions towards the next step.